76 YEARS OF TRADITION
The company was founded in Karnice as an ordinary carpentry workshop. And it was year 1946 - difficult times, especially here in Lower Silesia. Stanisław Bieniek, an artist-craftsman known in the area, had two precious things: local wood (alder from the marshy Barycz valley, oak) and the local tradition of craftsmanship. He skillfully used both of them. Today, JAFRA boasts an extensive collection in the spirit of classic style furniture. It is a reminder of charming, old-fashioned designs, solid furniture made of carefully selected wood (like cherry, hornbeam, ash, maple and beech wood.). Since 1979, the brand has been managed by Stanisław's son, Franciszek Bieniek, who takes care of uncompromising quality of production and tradition in the company he has expanded.
CLOSE TO NATURE

For 76 years, the JAFRA brand has been based in the Barycz Valley, famous for its beauty. Our honor and obligation at the same time is to use materials from reliable suppliers who care for nature and have appropriate approvals in the process of creating furniture, which prove the origin of wood from ecological resources; and it means renewable resources for foresters and carpenters. We are proud of the fact that from the beginning of its existence, JAFRA has strived to minimize its impact on the environment and to use the highest quality materials, sourced in a sustainable manner. By maintaining local production, we want to contribute to solving important problems related to the climate change.
POLISH HANDICRAFT

From the very beginning, JAFRA has committed itself to perpetuating traditions, knowledge and heritage passed down from generation to generation, while striving for development and innovative solutions. Drawing on more than 76 years of experience in the hand-made production of wooden furniture, talented craftsmen use a wealth of skills and modern techniques to strive for excellence. Our carpenters use the best veneers and various types of wood, taking care of every detail. Hand-made work and total commitment guarantee that all JAFRA furniture is unique and stands out from other brands.

AWARDS AND SUCCESSES

For many years, the JAFRA brand has appeared at Polish and international furniture fairs. Customers from all over the world could see our furniture live in Kiev, Milan, Beirut and Cologne. Every year we were also present at the Poznań International Fair. We have received awards for the best furniture and collections many times, including our best-selling Art-Mi collection, which combines classics with French finesse. Our fair stands have been distinguished and awarded several times as the most interesting among the competition.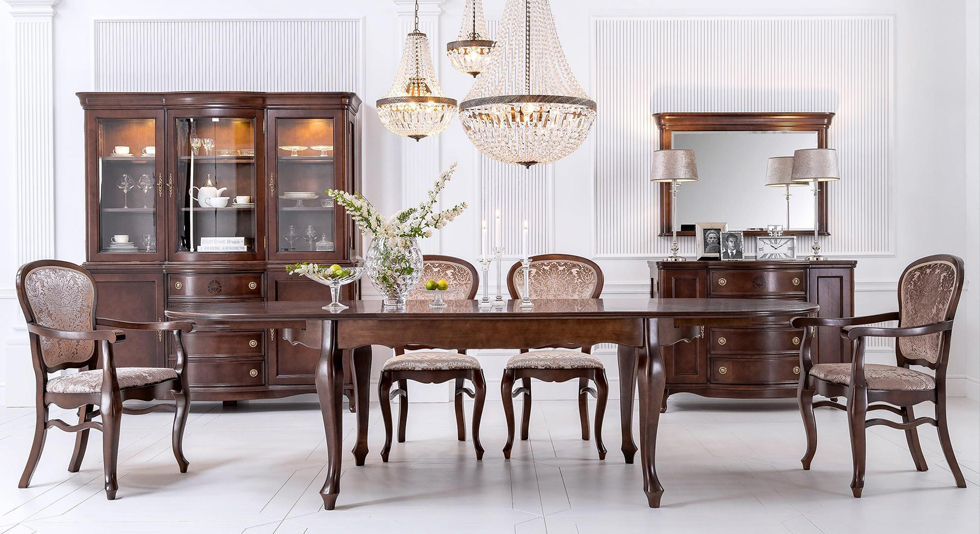 2017 | REBRANDING
JAFRA refreshed its image in 2017. The new logotype, referring to many years of experience, tradition and elegance, emphasizes the unique nature of wooden furniture. The renewed brand image was complemented by a delicate color palette, inspiring photos and catalogs, modified furniture collections and interior design showrooms. All in the spirit of the modernized classic. Thanks to these changes, the brand has focused on creating more modern furniture collections that perfectly match the latest interior design trends.
FROM GENERATION TO GENERATION

For over 40 years, Franciszek Bieniek has been caring for family traditions and the quality of production, which his father instilled in him. He creates furniture collections himself, and then puts his ideas into practice, collaborating with talented craftsmen on production.


"Classic is always up-to-date and never gets boring, and interior experts know how to combine it with modernity. Hence, our brand also develops the trend of such modernized classics."


Piastowska 68 street | 46-380 Dobrodzień | Production: Karnice 2 | 55-140 Żmigród
JAFRA ® All rights reserved 2022